Our Executive Director Hatice Kücük was delighted to speak at the @MeridianIntl summit today. Hatice emphasised that countries must put their differences aside to recover our societies and economies from #COVID19, with the pandemic likely to cost the global economy $28 trillion
Twitter feed video.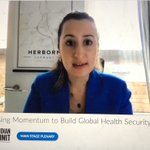 "We are working on disaster relief here. Governments are rallying around trying to find the money necessary to overcome this crisis— it doesn't lead to sustainable economic recovery," Hatice Küçük says. #MeridianSummit #COVID19
Must read by @davidpilling why the WHO has become a scapegoat in this pandemic. In times of crisis we need the help of multinational organisations to tackle a global pandemic not hinder them and stop the blame game of nations. via @financialtimes
Load More...